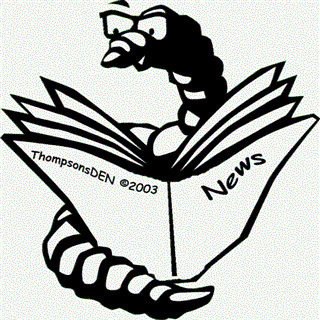 Reptiles That Make the news
Oct 01, 2003
"A Canadian First - Rare Komodo Dragon Born At Toronto Zoo!"
Oct 05, 2003
"350-pound tiger, large reptile nabbed in New York apartment"
Oct 08, 2003
"Tiger found in New York apartment came from troubled Minnesota animal park"
Oct 22, 2003
"Scientists trace evolution of poisonous frogs"
Oct 23, 2003
"Road closes for frog and snake crossings"
"Help! There's a croc on my doorstep"
"Glass-caged Menagerie of Exotic Reptiles Uncovered"
"Elusive gator spotted in school pond"
Oct 24, 2003
"Dozens Of Poisonous Snakes Found In Building"
Oct 28, 2003
"Alligator Runs Loose in Aircraft Hold"
"Hunt on for fugitive croc"
Oct 30, 2003
"Pterosaurs 'flew like birds'"
ThompsonsDEN of Reptiles
© Copyright 2003 ThompsonsDEN All Rights Reserved