Dear Chris and Arnie,
Dino is doing great and he is eating a tone. He is getting a new cage that is 3ft x 4ft high in a couple of days and we can't wait until he gets it. He went a shed already and we have had to get him a bigger water bowl. He eats 1-2 wax worms a day, and a few crickets. He spends most of his day under his heat lamp the lazy bum :) Anyway things are going good with him and he has been a joy to have thatnk you again for such a special friend
Vicky and Bill
ps: have a great Christmas and a Happy New Year.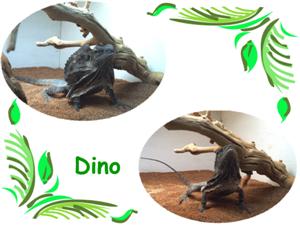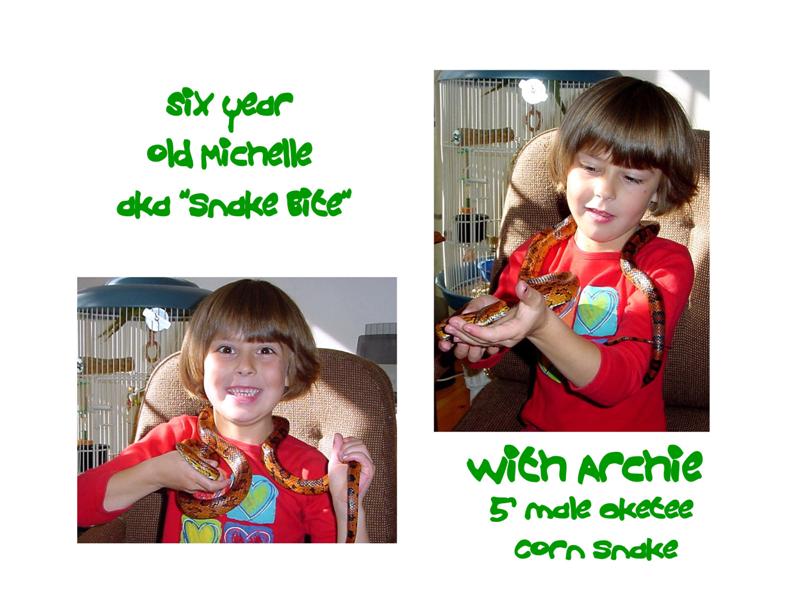 Arnie,
As promised here are two pictures of my six year old Michelle (aka Snake Bite) with Archie ( 5 foot male Oketee Corn Snake). I don't have her every weekend, so she was very excited to get your e-mail this weekend about your snake bite experiences. She is now more cautious with feeding them, but it has not cut back on her handling time with either of the snakes (Edith & Archie). She likes her snakes more than the cat!! Her latest question is 'when can we try feeding them live mice?' I think we'll keep it at frozen for now. Feel free to use the pix in the store collage, as Michelle is very excited to go see "Mr. Thompson's Store" when she comes to Stormstown! Hope all is well. Still working on approval for the skink. Take care.
Mike Chmielewski, MD